In a groundbreaking moment at the European Federation of Corrugated Board Manufacturers (FEFCO) Technical Seminar 2023, Kyoto emerged as the star of the show earning not one, but two prestigious FEFCO awards for their pioneering work in sustainability and innovation.
Out of an impressive lineup of 65 spotlight participants, who presented during the three-day seminar, Kyoto's presentation, delivered by the esteemed Lars Martinussen, Commercial Director Northern Europe at Kyoto, left an indelible mark on the audience and the FEFCO technical committee. At the conclusion of the seminar, FEFCO, known for annually honouring the most innovative and influential figures in the packaging industry, awarded Kyoto with the esteemed gold prize in the innovation category and the prestigious sustainability award.
CAPTION: FEFCO Sustainability award
FEFCO is a non-profit organisation representing the interests of the industry across Europe and investigates economic, financial, technical and marketing issues of interest to the corrugated packaging Industry, to analyse all factors which may influence the industry, and to promote and develop its image. Over the last 20 years, the corrugated cardboard packaging sector has decreased its carbon footprint by approximately 40%. It aims to decrease it even further, thus achieving climate neutrality by no later than the year 2050.
Eleni Despotou, FEFCO Director General explained, "Climate neutrality by 2050 is the way that the European Commission foresees its future growth strategy. The FEFCO Secretariat considers it as a duty to guide and assist the corrugated cardboard industry to enable climate neutrality in its manufacturing operations."
Kyoto's revolutionary approach revolves around the electrification of process heat from renewable sources such as wind and solar power. Heatcube, a thermal energy storage solution, stands as a testament to Kyoto's unwavering commitment to sustainable practices. This forward-thinking technology has garnered widespread recognition, positioning Kyoto at the forefront of the industry's efforts to combat climate change.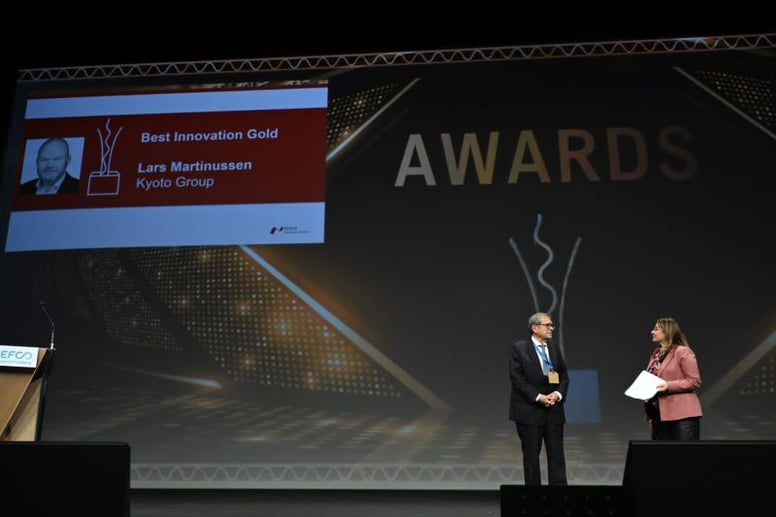 CAPTION: FEFCO Gold Innovation award
FEFCO, lauded Kyoto's exceptional achievement, emphasizing the proven effectiveness of their method. The dual awards, for both innovation and sustainability, were a testament to Kyoto's tireless dedication to pushing the boundaries of what's possible in renewable energy solutions.
FEFCO praised Kyoto's pioneering approach, stating, "For their proven method for the electrification of process-heat from renewable sources (wind, solar, etc.) via an e-thermal energy storage solution, the innovation and sustainability award goes to Kyoto Group." This resounding endorsement from FEFCO solidifies Kyoto's position as a true trailblazer in sustainable energy solutions.
In an unprecedented feat, Kyoto Group became the first company to clinch two FEFCO awards simultaneously. This remarkable achievement underscores the profound impact Kyoto is making in the industry, setting a new standard for excellence in innovation and sustainability.

As the world looks to find innovative solutions to combat climate change, Kyoto's groundbreaking work serves as a beacon of hope. This dedication to harnessing electricity from renewable energy sources for industrial process heat is not only a game-changer but a testament to the boundless potential that lies ahead and commitment to a greener, more sustainable world.