Somebody Find This Woman a Megaphone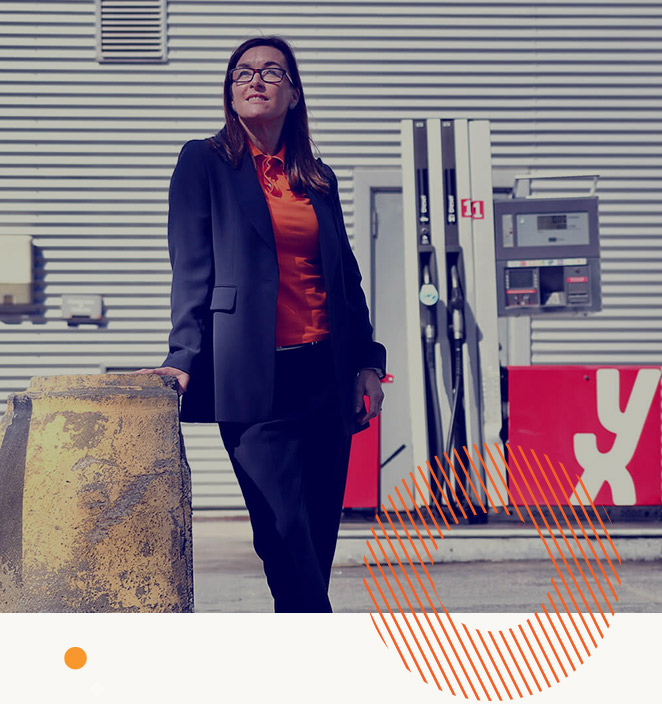 Somebody Find This Woman a Megaphone
The future is bright, and its technology is already here. This new CEO just needs you to pull the brakes for a second – and feel the industrial heat.
When she got the phone-call, Camilla Nilsson (48) was standing in basecamp, glancing towards the top of Mount Everest. It was 2007, but the line was still making a crackling sound. Nilsson, a rising industrial business star, on a two months "climbing leave" from her job as a corporate analyst for oil & gas and aluminum company Hydro at the time, noticed her eyelashes had frozen. Then she saw a ray of sunlight peeking behind the snowy tip looming in front of her. On the other side of the crackling phone line was a HR-representative from Hydro Energy. She wanted to know if Nilsson, after climbing the tallest mountain in the world, was willing to join the newly established renewable energy unit Hydro Solar, as an Investment Manager.
– I believe I said yes then and there, laughs Camilla Nilsson today.
She had just been near the top of the world, now, being offered to do something meaningful for it also seemed within reach. This new challenge – reducing CO2-emissions and figuring out how to keep using energy to make everyone and everything function everyday, but stop polluting everywhere – would be her only way going forward. And now, looking back on her long career within Hydro, Umoe Bioenergy, Agrinos and Yara she has somehow always steered towards building new business based on renewable sources whenever the green shift within large titans of oil and gas was not happening fast enough for her.
– It feels like I'm on a mission, I have a need to be involved with businesses with a purpose, she says.
Nilsson eventually moved on from Hydro Solar. Today an "internal compass" has recently brought this bright and passionate CEO to Kyoto – a Norwegian scale up-company not just trying to "save the world" like so many others of this sort, but who definitely will contribute to steer us in the right direction – if just more people could understand what Kyoto's invention actually could do for us. More on that later.
"It feels like I'm on a mission, I have a need to be involved with businesses with a purpose."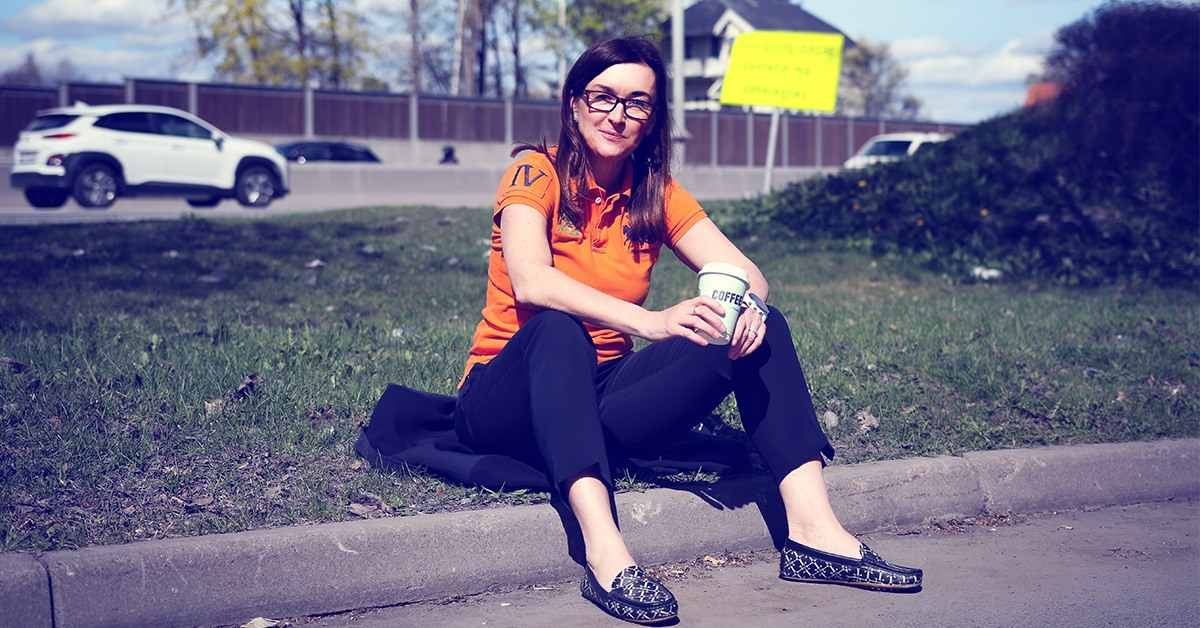 Exhaust from traffic is not the biggest problem
Right now, Camila Nilsson is yet again immersed in "nature", albeit a microscopic little piece of it. She – the diver, surfer, skipper and former scout – is sitting on her silky marine blue business jacket straight on the dusty ground, on a small patch of grass at a random gas station parallel to a noisy highway going into Oslo. This setting might possibly be the complete opposite of the tranquility she experienced in Tibet. But the hectic traffic scene feels a bit familiar to her though, back in the late 1980s when Camilla Nilsson was 15 years old, her very first job in life was at a BP-gas station in Sweden.
– You see those cars waiting to fill their tanks? Most people know there are different kinds of fossil energy like gasoline and diesel needed for different types of cars and trucks to do their thing, right? But what does not seem to be not common knowledge, also within politics, is that there are different kinds of demand for green energy too, Nilsson says before taking a sip of her paper mug coffee.
– So if we were to hang out at a "future energy station" what would we find?
– I will tell you. But first I need to explain something important, she says.
She places the mug on the ground next to a little yellow flower.
– We need to understand that even though most people have a personal relationship to the car and we talk a lot about Elon Musk. We discuss the electric car revolution, what to do with the emissions from the rest of the world's fossil car-park and the transport sector as a whole. But exhaust from transport is not the biggest problem when it comes to CO2-emissions.
– No? Do we have a blind spot?
– Yes, the main problem is production of heat. Half of the global energy demand is for heat, almost entirely produced by fossil fuels today, contributing to 40% of the global CO2 emissions. And yet we hardly hear about that! And half of that is the use of industrial heat in terms of hot steam, air and water needed for the production of everything… But there is a lot of noise right now, Nilsson says while a motorcycle is wrooming and a little girl screams when she notices the ice cream melting in her hand.
A way to store renewable energy for later use
But she is not talking about the constant noise from the traffic bubble around us. She is talking about being heard. About getting her message through. Because Kyoto has found the best solution on what is desperately needed in the world of renewable energy – to make the many initiatives on a bright, green future and all that actually work, for real. The sun-industry is gaining heat as we speak. The International Energy Agency (IEA) believes solar will be the number one source of energy in the world in 2050.
"Our planet receives more energy from the sun in two hours than what 7 billion people can use during one year."
– There is so much talk, so much buzz and different aspects of the green shift in need of attention. And it's fantastic that we're finally talking about energy transition, hydrogen, green ammonia, turbines and all that. But as Bill Gates also pointed out not long ago: We need to store it!
– We can not store renewable energy today?
– From a technology perspective we can, but we are not really doing it. You see, both politicians and people in general are not always aware of two very important things: One, our planet receives more energy from the sun in two hours than what 7 billion people can use during one year. And two: This power can unfortunately only be used when the sun is shining, the wind can only be used when it's blowing, Either we use it, or we lose it. That is the most systemic consequence of shifting to renewable energy, Nilsson says while a smug little cloud floats slowly in front of the sun.
– This is very unstable and not a great solution for industries, as all aspects of the business would become very unreliable and expensive. So we needed to find a way to contain this incredible power, to make it stable and as affordable as gas traditionally has been.
– How do we do that?
– We can store heat in a thermal battery, charged from renewable sources. We call it the Heatcube. So the solution is already here for half of all the thermal energy that the industry is using, she says.
– Kyotos battery, but it's huge? Like several containers? People would have to extend their house to fit this thing?
– That's why our batteries are a solution mainly for the industry, she says with a smile.
– What industry exactly?
– All industries?
– All?
Green shift, today? For industrial heat: Yes
– Yes, everything you ever touch, every little product you can imagine buying, for example at IKEA, including the corrugated cardboard it was shipped to you in, most likely needed heat during its production to shape or prepare or widen, to re-melt, shrink or cut. To make this heat all industries use energy, and today close to 90 percent of that energy comes from fossil fuel and the ever present gas boilers they use. It does not have to be this way. All that could change today.
– The gas boilers could go out the window right now?
– Yes, at least for factories that need up to 525 degrees celsius. A competent thermal battery would solve their needs because the battery can be charged with renewable energy at lower costs during off peak hours, to be used during the next day or night when the factory needs its steam. For some of the factories in need of temperatures above 525 degrees celsius there is still a technology gap, but electrical solutions are being developed as we speak.
"To make this heat all industries use energy, and today close to 90 percent of that energy comes from fossil fuel and the ever present gas boilers they use. It does not have to be this way. All that could change today."
– So much of the green shift could happen today already?
– For about half of the global demand for process heat in the industrial world – yes. And to give you an idea of the dimensions here. The demand for batteries to store electricity (for transportation etc) is expected to reach 9 TWh by 2030. The demand for thermal energy (heat) from the industry is around 24 000 TWh. Today.
– That is amazing?
– That is why I need a megaphone.
Different kinds of energies at future "gas station"
Ever since Nilsson was a kid she has surrounded herself with nature. In the deep forests of Värmland in Sweden her after school-hangout often started with a meeting. Next to a huge tree, hanging from what she and her two best friends, Dan and Niklas, called "The Branch of Emil", named after the little rebellious kid from the famous children stories of Astrid Lindgren.
– I loved sleeping outdoors, making things from and in nature, finding food and eating it right away. To cooperate with nature, play along with it and use its powers to one's own advantage.
– A bit like you do today?
– Exactly.
"Without storage the energy transition cannot happen."
– So I am curious, you were going to tell me what kind of renewable energies we will find at a "future energy station"?
– Right, so some things like heavy machinery, jet planes and long distance ship transport might be in need of energy like hydrogen or green anamonia. But most of our energy needs will be solved by using electricity captured from natural resources like the sun and wind. And of course, a way to store it. Without storage the energy transition cannot happen.
– Knowing all this, I wonder how Kyoto's batteries can be anything else than a no-brainer for being implemented in industries all over the world?
– I know, she sighs, before squinting towards the ball of fire smiling above the roof of the gas station.
– But we are in a perfect storm right now. A lot is happening, and little by little – everyone will see the light.