Oslo, 23 March 2022 – Kyoto Group AS (Kyoto) announces the acquisition of Mercury Energy S.L. from Andrés Barros Borrero, who is also the owner of RPOW Consulting. Mercury Energy will become a subsidiary of Kyoto and a new business unit named Kyoto Group Technology Spain. The share purchase agreement with Andrés Barros Borrero was signed on 23 March 2022 and Kyoto expects that the transaction will be completed during April or May 2022.
The acquisition will significantly strengthen Kyoto's molten salt capabilities and development capacity, and expand the company's geographic footprint close to its key markets in Europe, to be able to serve the increasing demand for thermal energy storage in Europe.
"Mercury Energy is a great strategic fit for us at Kyoto, adding to our growing capacity and bringing the key capabilities we need to rapidly scale our business and accelerate the commercial rollout of Heatcubes across Europe. Their extensive competence on thermal energy storage in molten salt as well as steam-generation enables us to deliver modular and scalable solutions to some of the most interesting industrial customers in Europe," says Kyoto Group CFO and Interim CEO Camilla Nilsson.
While strategic fit and technology competence are the most important benefits from the acqusition, Mercury Energy will also bring significant IPR for molten salt thermal energy storage as well as the opportunity to establish a business unit close to key markets for the rollout and after-market services of Heatcube thermal batteries to European industrial companies.


Welcoming a team of skilled molten salt experts
Building on the well-established partnership with Spanish consulting company RPOW, the transaction allows Kyoto to welcome several seasoned molten salt experts to its growing team. Coming from RPOW Consulting and the team currently working on the Heatcube development, Andrés Barros Borrero will become Technology Director in the Kyoto Group & General Manager for Kyoto Spain. He will be responsible for R&D and O&M activities in the Kyoto Group tech center in Spain, leading a team of skilled engineers.
"The alliance between RPOW Consulting and Kyoto Group gives rise to a globally leading company dedicated to developing innovative thermal storage products," says Andrés Barros Borrero.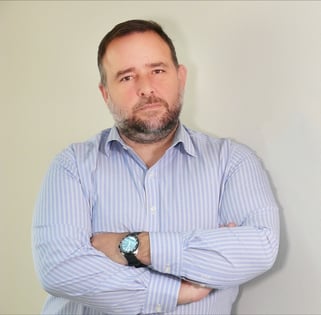 Andrés Barros Borrero is an Industrial Engineer from the University of Seville with 16 years experience in thermal energy storage applied to CSP and industrial applications. He is currently the General Manager of RPOW Consulting. Prior to RPOW, he developed his professional career in leading companies like Abengoa and Sener and is one of the world's leading engineering experts with hands-on experience in developing CSP and molten salt solutions for thermal energy storage.
The consideration for the shares in Mercury Energy S.L. is a cash payment at completion of the transaction. In addition, Andrés Barros Borrero will be entitled to additional compensation for the shares upon satisfaction of agreed milestones linked to future commercialization of Heatcubes in Spain for the period until 1 January 2026, paid as shares in Kyoto Group AS.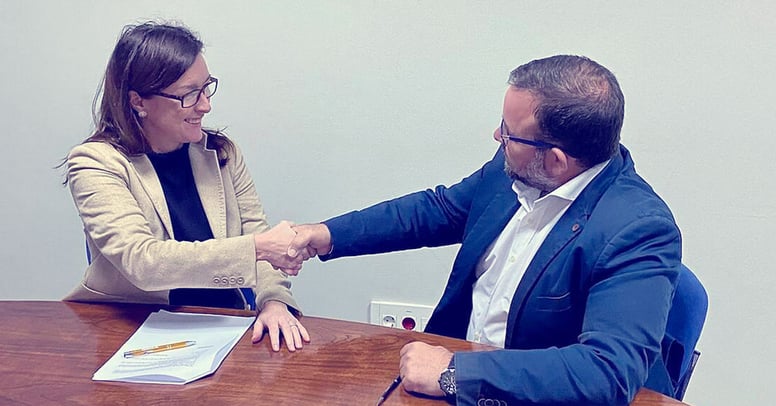 Camilla Nilsson and Andrés Barros Borrero
"By acquiring Mercury Energy we are able to grow our team of skilled engineers with in-depth knowledge about thermal storage, molten salt and steam-generation, together with significant molten salt IPR." says Bjarke Buchbjerg, the CTO of Kyoto Group.
For additional information, please contact:
CFO and interim CEO Camilla Nilsson +47 48 29 56 85 or camilla@kyotogroup.no
About Kyoto Group
Kyoto Group aims to capture and manage the abundant energy from variable renewable sources such as solar and wind power and apply it to reduce the CO2 footprint for industrial thermal loads. The Company plans to lease & operate and sell Heatcube thermal batteries with capacity from 5MW, enabling industrial consumption of low-cost heat sourced from excess solar and wind energy.

www.kyoto.group
About RPOW Consulting
With two main offices, in Spain and United Arabian Emirates and as an international energy consultancy company, RPow Consulting offers a broad range of technical and managing services. Such services relate primarily to the energy sector, both Conventional and Renewable energy. Our Senior Engineers stand for Experience and International Competence in Africa, Asia, Europe, Middle East, North & South America.

https://www.rpow.es/
About Mercury Energy
Mercury Energy is a sister company of RPOW, focusing on and holding a number of IPRs related to the development of Thermal Energy Storage.