Our new team members, Henrik Holck-Clausen, Agnieszka Sledz and Tim de Haas are leveraging their extensive experience to achieve growth and expansion at Kyoto.
Kyoto Group is expanding our team. From sales to project leaders to people & culture, every area within our scale-up, green energy organization is improving and developing beyond our start-up roots.
And with this expansion, Kyoto has chosen new team members with the skills and experience to truly complement the existing team. This has allowed us to continue growing the business successfully and achieve our goals with the support of a whole new task force.
But who are these new team members and how do they contribute to Kyoto's long-term plan?
The new team is helping drive Kyoto's strategic initiatives
In order to support the development of existing and future commercial projects, Tim de Haas joined Kyoto Group as Chief Commercial Officer.
Originally from Germany, Tim's goal in the company is to expand our portfolio of commercial Heatcube projects and drive our strategic initiatives. Previously as EVP for Human Health & Nutrition at Aker BioMarine (a Norwegian fishing and biotech company), he led international teams securing commercial success within the company.
Now joining Kyoto, he wants to bring the same success and focus to the rollout of the Heatcube.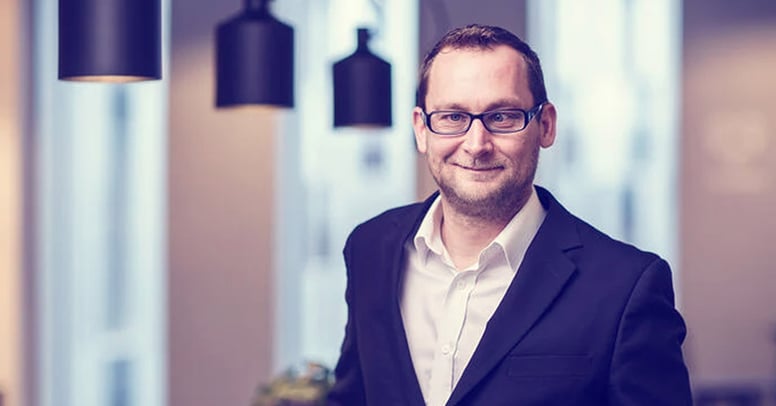 "I am extremely excited about being part of changing the energy sector," says Tim. "I have always wanted to contribute to a greener future. Now, we have the opportunity to develop technologies and take a leading role in providing heat generated by renewable energy to meet growing demands in various industries.
"The vision, the spirit and the expertise at Kyoto make it easy to grow the company into an industry leader with a strong international footprint."
After working as a driving force in the international expansion of Aker Biomarine, Tim, who studied as an economist, wants to utilise his experience to lead Kyoto's commercial growth initiatives
"The most important thing is to understand our customers and their needs. We want to deliver a solution that is best suited to our customers and I think that we have created that with the Heatcube. My mission is to show potential partners the prospects and benefits they can gain from the solution, and then implement them.
"My new role involves building long-term partnerships. We try to continuously expand the way we can support our customers and, thereby, improve the energy mix and reduce the CO2 emissions in the world. At the end of the day, it's all about decarbonising industrial heat and Kyoto has the best solution for this."
The main goal right now is to get the Heatcube installed with Kyoto's current partners at Nordjyllandsværket. The Kyoto Group Heatcube thermal battery will provide heat to the local district heating system under a leasing contract, and the energy input is electricity sourced from windmills and as a flexible resource for the grid.
Tim says the success of this project will spread the word and ensure the expansion of the Heatcube.
"Sustainability and commercial success can go hand-in-hand. There is no conflict between them. I'm convinced that the Kyoto solution on offer can have a real commercial impact and it's my job to ensure this impact continues in the future."
Installing the projects to strengthen Kyoto's growth
In alignment with Tim's commercial sales goals, Agnieszka Sledz has joined Kyoto as the Chief Project Officer.
Agnieszka is working to ensure that all Heatcube projects are installed on time, within budget, and with the appropriate product certification. She is a naval architect who previously worked at Clean Marine as Head of System Engineering.
Agnieszka has 20 years of experience in the maritime and energy sectors. She spent six years in South Korea as a project manager for Bureau Veritas, is a board member of WISTA Norway, and worked on commercial business development and a constant improvement of the products within Clean Marine. Her significant experience in managing large and complex technical projects further strengthens the engineering and technology team in Kyoto.
Agnieszka's first mission with us is to lead Kyoto's project to construct and operate the thermal battery as part of Nordjyllandsværket and Aalborg Varme's programme to test and introduce new clean energy solutions and phase out coal.
"My goal is to ensure this project is completed successfully and prove to the market that our technology is reliable," says Agnieszka. "My job will be to ensure that the company is very aware of the priorities of the projects we have in the short-term. As well as the projects yet to come."
Agnieszka says she is looking forward to working with the existing team and with the new team members who can bring a fresh perspective to the business.
"It's all very exciting, especially how everyone is bringing something different and valuable to the company. The better atmosphere in your office, the better the base for collaboration. That is how we can all do our jobs better and more efficiently."
Agnieszka says there is nothing more important right now than developing clean, sustainable energy
"We need to change how the world uses energy. We have the solutions, we have the ideas, and we have the knowledge. So it's just a matter of putting competencies and energy into it. Kyoto's Heatcube is so innovative and this technology can really make a difference.
"I'm really looking forward to utilizing my experience and contributing to the development of a company that will enable the use of green and affordable energy."
Having the experience in building a company from start-up to scale-up, Agnieszka says it's incredibly exciting to be part of Kyoto going forward.
By creating a diverse team, both gender and nationality-wise we are ensuring bringing all relevant perspectives and competencies to the table.
"As well as leading the projects, it's also important to make sure we have the capacity, the right people, and the processes required. This helps us establish that we are ready to handle even more in the future."