A logical next step on the journey to industrial and commercial success: A CEO who has completed the journey before. Christopher Kjølner takes his place amongst the experienced management team in Kyoto Group.
Christian Blom, who has been the acting CEO, will continue in his role as Kyoto Group's Chief Operating Officer (COO). Together with Christopher, they bring extensive experience and a solid track-record from both the solar and the wind energy industries, the two sources of renewable energy that Kyoto is targeting to connect to the industry.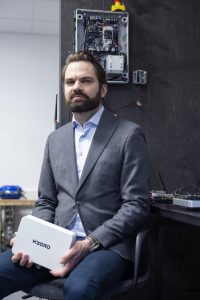 Christian Blom, COO of Kyoto Group.
-Kyoto Group has a strong renewable energy technology offering and clearly stated ambition for growth. We are pleased to welcome Christopher, who together with Christian and the rest of the team will drive the commercialization of that offering. We also thank Christian for his leadership through the Euronext Growth listing", says Eivind Reiten, Chairman of the board at Kyoto Group.
On the 24 th of March this year Kyoto Group was listed on Euronext Growth. Today 15th of April Christopher Kjølner takes the helm of the newly listed company.
-We have a clear growth strategy. We have listed the company and the first projects are under development. Now, we are strengthening the overall leadership capabilities.
Further expanding the experienced leadership team with a new CEO is a planned milestone at this stage in the company's development. Interim CEO, Christian Blom will now resume his duties as Chief Operations Officer along with Camilla Nilsson (Chief Financial Officer), Thommy Bommen (Chief Knowledge Officer), and Gustavo Zaera Holo (Chief Product Officer). Nilsson also recently joined Kyoto and added extensive business experience from large corporations as well as start-ups.
- What does a CEO job like this require?
- First and foremost it's making it work as a team effort, with a great team of leaders and employees. On top of that, you should preferably have done similar things before. Kyoto is a company at an early stage with a clearly stated growth ambition. We need to strengthen our commercial capabilities and Christopher Kjølner is a particularly well suited resource in these respects, says Reiten.
A familiar journey
Previously, Kjølner has been involved in taking ScanWind Group, an early stage company producing offshore wind turbines, later bought by General Electric, to success, and then being part of the team taking GE Renewable to becoming the world-leading supplier. Before leaving the job as Commercial Leader in North America and Canada, they had sold, produced and installed 3 billion dollars worth of windmills. That same journey is the one Kyoto Group is embarking on now. Kjølner himself, however, is reluctant to lead with comments about past achievements.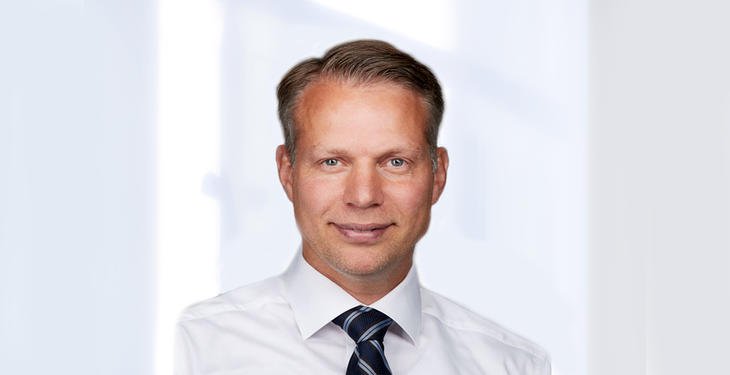 Christopher Kjølner, CEO of Kyoto Group as of 15th of April 2021.
- I'd rather that people know that I'm very much looking forward to becoming a part of the Kyoto Group team, and joining this journey that we are making together, says Kjølner.
As both Kjølner and Reiten point out. Taking a product from innovation to full scale industrial application is a road with many surprises, especially for those who haven't done it before.
- The challenge is to make the product (in this case the Heatcube) as efficient as possible, organized as clients want it, while at the same time delivering it in a robust and profitable way, says Kjølner.
- I want to inspire my team to see solutions whenever we meet challenges, Kjølner continues.
Kyoto Group solves a real problem
Christopher Kjølner lists many reasons why Kyoto Group is a great opportunity for anyone involved, including himself. Three of these stand out.
- Today, the world is using more and more renewable power sources while at the same time we're shutting down fossil sources. This creates periods of difference between supply and demand in the energy market, which is where Kyoto Group's Heatcube becomes highly relevant. A thermal battery makes it possible to efficiently store energy for use when it is needed, not when the weather is right", says Christopher Kjølner.
The problem is the instability of variable energy sources, and the related consequences. What if the wind isn't blowing when you need power, or the opposite - you don't need it when it's blowing at gale force. The energy market needs technology and mechanisms to deal with this instability to achieve firmness.
A new set of experienced board of directors
Kyoto Group also has a new team of experienced board members. All of which have years of experience as CEOs of titans of industry or government, both in Norway and internationally.
- Kyoto has a board with broad experience in industrialising products. People who have also made this journey before. Moreover they''ve done it in the specific segment where Kyoto is operating, says Kjølner.
- The board knows the needs of our customers very well and have led large international corporations which are potential clients for Kyoto now and in the future, he continues.
The board includes both partners and owners of Kyoto Group. Eivind Reiten, the chairman, is former CEO of Hydro and a former Minister of Oil and Energy, Board member Torleif Enger, is the former CEO of Yara and once named one of the top ten business leaders in Norway after World War II by the financial magazine Kapital. The board also includes; Ivar Valstad, senior technology advisor at Hydro; Arne Erik Christiansen, Co-Founder of Kyoto; Pål Selboe Walset, the CEO of Valinor; and Hans Olav Kvalvaag, SVP New Ventures at Scatec Solar.
Huge market potential for heat storage
Most of the global industrial energy demand is connected to heat production, and the market for thermal batteries serving this demand is $300 billion (Forbes, july 2020). At the same time, storing heat is much more cost efficient than storing electricity. These two factors combined means that making and storing energy locally, is a likely and simpler future, than only relying on large amounts of energy transported over the grid.
-The cost of storing energy is about to decrease to the extent where it will transform the energy market. Storing energy in the form of heat or electricity, will play an increasingly important role in this transformation, says Kjølner.
-The market potential is huge and will only grow, he continues.